Wednesday, October 27, 2010
Hard bangin' no-fi bedroom rave grind destruction.
Arboga Teenage Riot
Posted by

ogkijn
at 6:48 PM
No comments:
Links to this post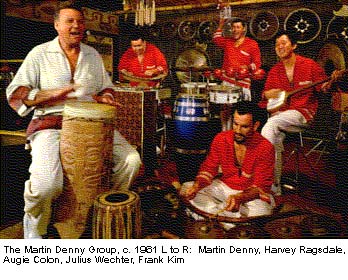 1959. The same year that the U.S. took Alaska as the 49th state and Fidel Castro took Cuba, Martin Denny took America's imaginations on a cruise to far off lands of exotic romance with
Afrodesia.
Seriously, look at these dudes. So smooth, so fun, even the birds and frogs wanted to jam with them. No wonder middle america was so eager to embrace this strange, lush, (dare I say it?) exotic music.
I, like many teenagers with combat boots and eyeliner in the 90's discovered Martin Denny through Throbbing Gristle.
Heathen Earth
was my jam. Dig it with some headphones and a dream machine.
Posted by

ogkijn
at 5:54 PM
No comments:
Links to this post